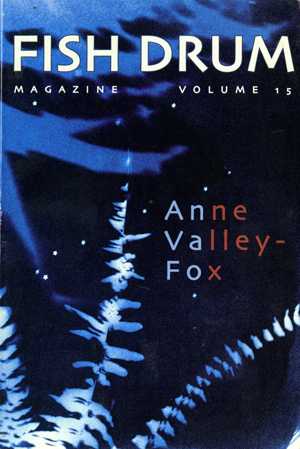 Fish Drum Magazine Volume 15
Fish Drum Press, 1999 (76 pages, $6.00)
Cover art by Nancy Sutor
Read Poems
Buy from amazon.com
"Anne Valley-Fox has stuck out her thumb on the Beat highway of American poetry."
-Miriam Sagan, author of Dirty Laundry, 100 Days in a Zen Monastery
"In Buddhist practice exists a lineage known as "householder." One who accepts this path walks on burning coals and smiles with ferocious glee, as it resolutely requires a daily life imbued with compassion. One has to learn how to love. To hold a house is to cultivate the heart's embrace in the brave ongoing, with all orbits, and every friction. The poems of Anne Valley-Fox offer us a unity of longing and surrender in the process of care for family—and how it connects to the larger extended family of us all. What occurs is stalwart and fundamental, personal and selfless—a picnic of intimate touch, mistaken gestures, kind words, the desire for kind words, how one fights for sincerity, and how one straddles a log around a campfire. Few poets reveal better the intricacies and paradox of domestic wisdom, the good life in a teardrop, its salt used for lunch."
-J. B. Bryan, author of Big Thank You
"The appearance of a collection of poems by Anne Valley-Fox in Fish Drum Magazine is a cause for celebration."
-Pat Schneider, Founder/Director, Amherst Writers & Artists
Poems from Fish Drum Magazine
After Reading the Morning Papers
(for Ed Hogan, 1950-1997)
Mr. Death, in butler tux, scrolls through his
standard fare: assassinations in Northern
Ireland; child trapped in swimming pool drain;
Hutus slaughtering Tutsis; somebody axed;
local activist snatched by AIDS; teenager
chained to upstairs toilet & starved by her
mother's lover—you get the drift.
Death puts sticky lips to my neck in a kind of kiss.
"You don't know me yet? I'm Gaia's handmaiden."
I'm pruning cosmos and roses in the garden, seeding
& watering barren spots where something has
died. The guy has a point, honed in a hothouse of
eastern religion; besides, he's a shrewd reductive
thinker, more at ease in the harrowing depths than I.
I snip one rose for the beer bottle vase and hold it
under my nose. Perfumes faint, after so many Junes
—but provocative.
Song the Old One Sings
It's the difference between
a brass bell, out in the weather, stained by
seasons, clapper stalled in the throat
and bells pealing their silver shine
on the land. Or take your seasoned
orchard, dripping fruit, half of it wormed
and bitten versus
saplings long in their succulence promising
next year's bonanza.
You stumble upon an artesian spring
and bow above it, become a footbridge.
Waking or sleeping, no
difference, your arrow gaze, hazed by
day, transpierces the surface
clarity—keeps plunging.
10,000 Joys 10,000 Sorrows
1.
Resist falling back asleep, the loveliness
of butter knives over the body.
2.
Fix on the wren with the eight-note song,
the child blowing his nose and singing.
3.
Suicide bombs in the marketplace—
you venture another list.
4.
10,000 joys 10,000 sorrows, everything
begs your attention.
5.
Choose what quickens, move in close,
be transfigured.